Clinical (EHR) Release Notes October 26, 2017
Last updated
In October 2017, your Kareo Clinical account will be upgraded to the latest version.
Implantable Devices
This enhancement effects all clinical customers, including those using mobile. A new requirement for 2015 Edition Certification is the recording of implantable devices. Implantable devices include stents and pacemakers. Each of these devices has relevant information about its design and identification, such as brand name, version or model, serial numbers or expiration dates. Kareo will use the Unique Device Identifier (UDI) to query the FDA device database for device information, store it in the patient record, and include it CCDA summary record exports. Kareo provides the option to enter active, unknown devices as long as the comment field has information entered by the provider. These feature enhancements will help providers keep track of implantable devices for their patient and address any issues such as device recalls in a timely manner.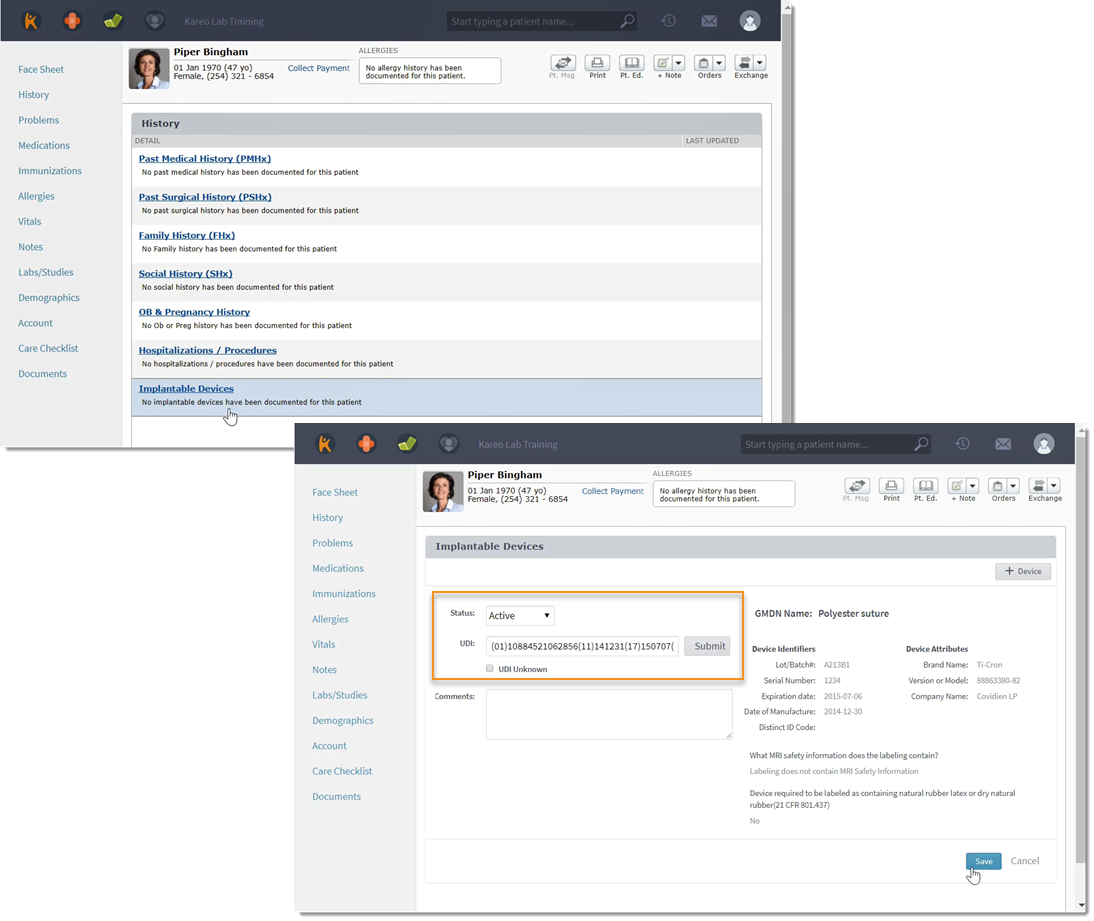 Portal.Kareo.Com Upgrades
In an effort to align with industry best practices for security and data integrity, portal.kareo.com will be upgraded to TLS 1.1 or higher on October 31, 2017. As a result, TLS 1.0 will be disabled and any browser or system not updated in the past (4) four years will not be able to support the higher level of encryption. The following browsers will not be supported:
MICROSOFT INTERNET EXPLORER (IE)
Desktop IE versions 7 and below
Mobile IE versions 10 and below
MOZILLA FIREFOX
Firefox 22 and below
GOOGLE CHROME
Google Chrome 21 and below
APPLE SAFARI
Desktop Safari versions 6 and below for OS X 10.8 (Mountain Lion) and below
Mobile Safari for iOS 4 and below
GOOGLE ANDROID OS BROWSER
Android 4.3 (Jelly Bean) and below
Please reference the following site for additional information: https://www.ssllabs.com/ssltest/clients.html
New Kareo Telemedicine
Kareo has announced its new Telemedicine solution which is a cloud-based telemedicine solution that will enable its more than 40,000 healthcare providers to conduct secure, HIPAA-compliant video consultations with new and existing patients. This announcement comes amid explosive growth in the telemedicine space, driven by enormous patient demand for convenient access to healthcare services. The Alliance for Connected Care concludes that a telemedicine visit represents $126 in savings as compared to an average in-person visit. With video consultations in the U.S. growing from 19.7 million in 2014 to an estimated 158.4 million by 2020, Kareo is putting its private practice clients at the forefront of an important transformation in healthcare delivery. Kareo Telemedicine will allow physicians and mid-level providers to conduct a wide range of appointments with patients remotely over secure video – with full reimbursement from private insurers.
These video visits are ideal for varied types of routine consultations and follow-ups that do not require a physical examination, such as reviewing lab results, adjusting medications, and minor urgent care. Specialists, such as OB/GYNs, can utilize telemedicine to help manage postpartum depression, gestational diabetes, hypertension or preeclampsia, and family planning.
Providers who use the Kareo integrated platform (both web and desktop application) will be able to schedule video visits using the same workflow as for in-office appointments. At the time of the visit, providers can launch the video window with one click to see their patients face to face while documenting the encounter. Insurance eligibility verification and billing recommendations such as appropriate modifier codes will be included in the service. Scheduling a video visit in the Kareo Platform also triggers automated communication to the patient to remind them of their upcoming appointment, and provide secure login access at the time of the visit.
Further help articles for Kareo Telemedicine available here: http://help.kareo-telemedicine.com
Activation from Platform
Bug Fixes
Fixed an issue where the user was unable to view immunization records for some patients.
Fixed an issue where Labs sometimes displayed an error code upon access.
Fixed an issue where users were unable to view patient medications, and instead received an error message, from the patient face sheet.
Fixed an issue where some customers would try to renew patient medications and the system was unresponsive.
Fixed an issue where the user was unable to save some patient records in the platform.
Fixed an issue where the user was unable to scroll between patients listed under messaging patient groups.